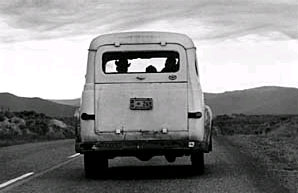 AMERICA THE BEAUTIFUL
Monroe Gallery of Photography is pleased to announce "AMERICA THE BEAUTIFUL", a major group exhibition of compelling and provocative photographs illustrating America, American life, and the American people. The exhibition opens July 4. "AMERICA THE BEAUTIFUL" will continue through September 22.

Through more than 50 enthralling images, "AMERICA THE BEAUTIFUL" explores the rituals, celebrations, social change, history, and memories of the American nation. Photographs in the exhibit depict major events and everyday life; themes of patriotism, memory, conflict, and identity; and explore the complex and changing relationship between Americans and their homeland. Images in the exhibit will recall memorable events: some are personal, tied to experiences in our own lives. Others are collective, shared memories of key events in our nation's past.

Included in the exhibition are photographs by Berenice Abbott (Nightview), Joe Blake (Ground Zero, 9/12/01), Debbie Fleming Caffery, Vivian Cherry (Country Doctor), Alfred Eisenstaedt (VJ-Day in Times Square), Paul Fusco (R.F.K. Funeral Train), Ernst Haas (Albuquerque), Douglas Kent Hall, Marcia Keegan (Native Americans), William Klein, Elliott Landy (1960's Protests, Woodstock), Neil Leifer (New York Harbor, Bicentennial Celebrations), Carl Mydans (Senator John Kennedy Campaigning with Jacqueline), Kendall Nelson (American Working Cowboy), Gordon Parks (American Gothic), Bill Ray (Marilyn Monroe Singing Happy Birthday to President Kennedy), Arthur Rothstein (Dust Bowl), and many others.