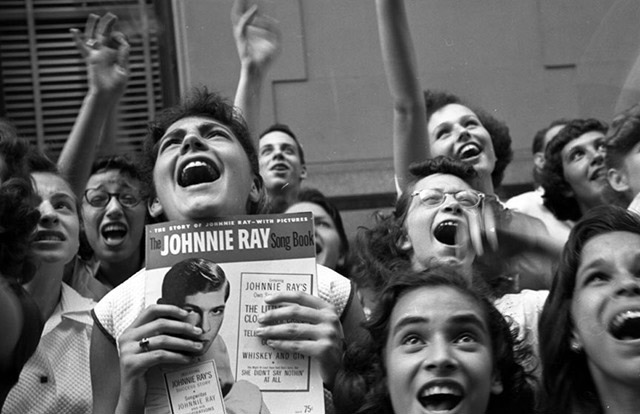 Art Shay
Art Shay: A Tribute
2017-10-06 - 2017-11-19
For over 70 years, Art Shay has documented life, combining his gifts of storytelling, humor and empathy. Art Shay will be honored with the Lucie statue for Lifetime Achievement during the Lucie Awards gala ceremony at Carnegie Hall in New York October 29, 2017.The Lucie Awards is the premiere annual event honoring the greatest achievements in photography

Art Shay was born in the Bronx, New York, in 1922. During World War II, he was lead navigator on 30 missions in the Eighth Air Force. His service, which also includes 23 combat supplies missions, earned him five Air Medals, the Distinguished Flying Cross and the French Croix de Guerre. He is credited with shooting down one Focke Wulf 190, a German fighter plane.

Shay has pursued photography since his teens, and he took his first Leica to war with him. His first published photographs—documenting a mid air collision over his English Air Base—were printed in a September 1944 issue of Look magazine. Upon returning to civilian life, Shay wrote Sunday features for the Washington Post before becoming a staff reporter for Life magazine. In San Francisco at age 26, he became Life's youngest bureau chief. His specialty was story ideas and he wrote text and captions for photographers such as Alfred Eisenstaedt, Peter Stackpole, Wallace Kirkland and Francis Miller.

In 1951, Shay left his staff position at Life magazine and became a freelance photographer. He found success shooting for major magazines including Life, Time, Fortune, Ebony, Sports Illustrated, The Saturday Evening Post and The New York Times Magazine. Shay earned a reputation for getting the shots editors wanted. As former editor of Life and Fortune Roy Rowan put it, "Art Shay's extraordinary talent lies in capturing the human spirit of all those who come before his lens." Shay's images range from photographs of nine US Presidents, to the early 1960s Post cereal box baseball card photographs. His his last formal assignment was in 1988, when he shot the night the lights went on at Wrigley Field for Time Magazine.