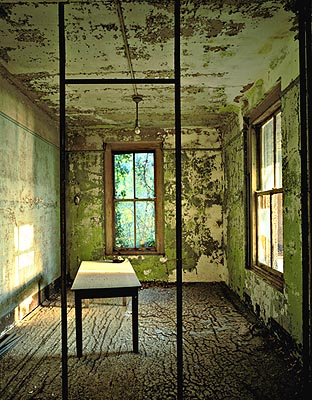 ELLIS ISLAND
GHOSTS OF FREEDOM
Santa Fe--Monroe Gallery of Photography, 112 Don Gaspar, is pleased to present "Ellis Island: Ghosts of Freedom", an important exhibition featuring the documentary project of leading contemporary photographer Stephen Wilkes and celebrating the publication by W. W. Norton of a major new book of the same title.

"Wilkes' photographs of the 'dark side' of Ellis Island are extraordinary - this book will be a major event." David McCullough.

The exhibition opens with a public reception for the photographer on Friday, October 6, from 5 - 7 PM. The exhibition continues through January 7, 2007. Signed copies of the new book are available from the gallery, and a special booksigning will take place Saturday, October 7, from 10 to 11 in the morning.

Ellis Island: "Ghosts of Freedom" is a collection of large format color cibachrome photographs of the abandoned buildings on the southern side of Ellis Island. Photographed over five years (1998 - 2003), "Ellis Island: Ghosts of Freedom" is visual history of the benign neglect of the medical facilities and dormitories of the historic immigration center, which at that time, unlike the Great Hall, had not yet been restored. Wilkes' photographs capture the haunting beauty of this century old building. "Ellis Island: Ghosts of Freedom" is a rich visual tapestry evoking the ghosts of the millions of immigrants who passed through these halls on their first stop in America.