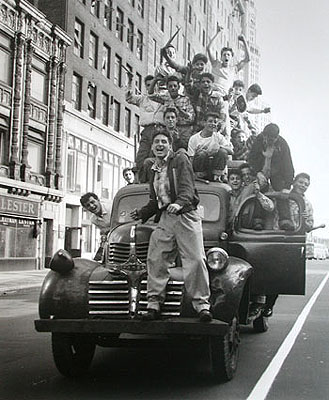 FOR LOVE OF THE GAME
Beginning in the 1920's, sports began to take hold on the imagination of Americans. The introduction of radio made it easier for fans to keep up with their favorite teams and newspapers and magazines increased coverage of sports. Legends were born and heroes were made, and Baseball was deemed "the national pastime". Babe Ruth was a hero to untold numbers of people who never saw the inside of Yankee Stadium, and never actually saw "the Babe". Mental images formed from radio broadcasts, and still photographs in newspapers and magazines became the defining impression of events and personalities of the time. On the pages of newspapers and magazines, through the images captured by renowned photojournalists, the eyes of a nation were opened as never before to the magic and magnetism of sport.

Sport has become big business. Today the payroll of an average pro team is millions of dollars a season, and numerous scandals have tainted the prestige of many athletes and in some cases an entire Sport. The virtuousness, heroism, and prominence of a champion athlete has become a memory from a different era.

"For Love Of The Game" takes a look back to the more innocent time of sports, and covers a wide-range of sports, games, and activities, including: baseball, stickball, football, golf, sailing, track and field, hockey, and car racing. Memorable photographs of numerous heroes and icons from the world of sports are featured, all from an age when there truly was a "love for the game".