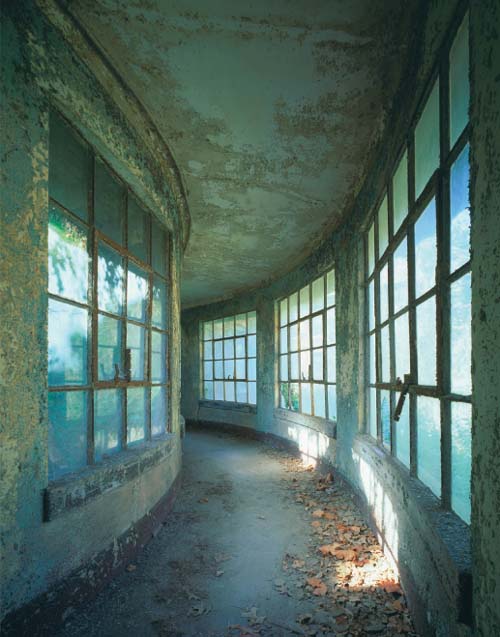 FORGOTTEN ELLIS ISLAND
Santa Fe — Monroe Gallery of Photography, 112 Don Gaspar, is pleased to present "Forgotten Ellis Island," an exhibition featuring the documentary project of leading contemporary photographer Stephen Wilkes. The exhibition opens with a public reception for the photographer on Friday, October 1, from 5 - 7 PM. The exhibition continues through November 21.

"Forgotten Ellis Island" is a collection of large format color cibachrome photographs of the abandoned buildings on the southern side of Ellis Island. Photographed in 1998, "Forgotten Ellis Island" is visual history of the benign neglect of the medical facilities and dormitories of the historic immigration center, which at that time had not yet been restored. Wilkes' photographs capture the haunting beauty of this century old building. Using natural light, Wilkes painstakingly photographed the peeling paint, rusted iron, broken glass and halls with wind-strewn leaves and created an ethereal diorama that is captivating and compelling. Brilliant sunsets on the water outside these buildings shed spectral light that is both alluring and eerie. "Forgotten Ellis Island" is a rich visual tapestry evoking the ghosts of the millions of immigrants who passed through these halls on their first stop in America. With his exclusive photographs and video work Wilkes was able to help secure $6,000,000 to renovate this once exquisite ruin. Today all that remains of the past are Wilkes' haunting photographs.

"I photographed every corner, every crevice, in every light. Strange things happened. I'd photograph a mirror attached to a wall for half a century, only to return and find the mirror shattered. I'd photograph a shoe, only to come back and find it disappeared. I photographed the 500-foot long spine of the hospital, Corridor #9, a long tunnel of decay. In the photograph of it, you'll see a golden glow of sunshine warming the walls at the far end. In all the times I went back, I've never seen this glow again, nor can I figure out its origin.

What I was obsessed to do, almost as if I was chosen to do it, was document the light and the energy and living spirit of this place. I added no light of my own, nor any artifice of the photographic craft. I wasn't simply interested in graphics born from the patina of ruin. I just wanted to record the place as I found it."
— Stephen Wilkes