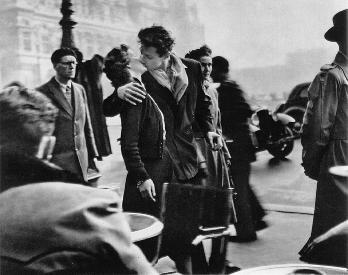 LOVE/KISS
EXHIBITION OF CLASSIC IMAGES OF ROMANCE BY MASTER PHOTOGRAPHERS
SANTA FE — Monroe Gallery of Photography, 112 Don Gaspar, is pleased to announce "LOVE/KISS," a major group exhibition of compelling and provocative photographs exploring themes of love, romance, passion, and devotion.

The exhibition opens with a public reception on Friday, January 16, 2004, from 5 to 7. A special reception will also be held on Friday, February 20, in celebration of ART FEAST. For this annual charitable event benefiting art in Santa Fe schools, Monroe Gallery has partnered with the renowned El Farol restaurant to create "LOVE/KISS: Aphrodisiac Tapas" (tickets required). "LOVE/KISS" will continue through March 28.

Through 50 absorbing images, "LOVE/KISS" explores the characterization of love and romance. Whether it's a peck on the cheek, a gentle nuzzle, or a passionate expression of love, kissing and being kissed are two of life's most wonderful pleasures. This exhibition of endearing photographs features classic images of romance by master photographers, including Robert Doisneau's iconic "Le Baiser de l'Hotel de Ville. Paris, 1950."

Photographs in the exhibit capture major personalities and historical figures in the throes of love, and everyday people enjoying quite moments of romance. Images in the exhibit will evoke memories in the viewer: some are personal, tied to experiences in our own lives. Others are collective, shared memories of key events in our time.

Included in the exhibition will be photographs by: Ted Allen, Sid Avery, Harry Benson, Margaret Bourke-White, Loomis Dean, Robert Doisneau, John Dominis, Alfred Eisenstaedt, Bob Gruen, Ernst Haas, Mark Edward Harris, Karen Kuehn, Nina Leen, Carl Mydans, Kendall Nelson, Ruth Orkin, Bill Perlmutter, Bill Ray, Mick Rock, Willy Ronis, Verner Reed, Alfred Wertheimer, Ida Wyman, and others.