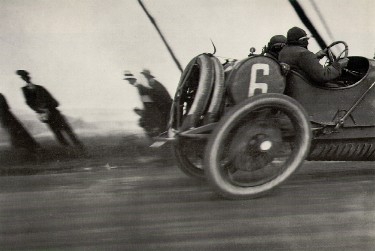 Masters of French Photography
Jacques Henri Lartigue, Edouard Boubat, Robert Doisneau, Willy Ronis
Masters of French Photography: Jacques Henri Lartigue, Edouard Boubat, Robert Doisneau, Willy Ronis

Monroe Gallery of Photography, 112 Don Gaspar, Santa Fe, is pleased to announce "Masters of French Photography: Jacques Henri Lartigue, Edouard Boubat, Robert Doisneau, Willy Ronis." The exhibit opens with a reception Friday, March 7, and continues through April 13. Through the work of these four important photographers, almost a full century is documented. Regrettably, three of these masters are no longer with us, and Willy Ronis is now 93. The exhibition highlights La Belle Epoque, the Occupation and Liberation of Paris, day by day photojournalism; and illustrates perfectly the French "joie de vivre."

Photographing for his own innocent pleasure the varied day-to-day activities of his family and friends, Jacques-Henri Lartigue (1894-1986), a child prodigy of the camera, captured the excitements and fragile beauties of La Belle Epoque at the beginning of the century with a striking freshness and authenticity. The world he recorded soon vanished with the arrival of World War I. Lartigue's photographs document the end of the old world and the beginning of the new.

Robert Doisneau (1912-1994) is one of France's most popular and prolific reportage photographers, known for his modest, playful, and ironic images of amusing juxtapositions, mingling social classes, and eccentrics in contemporary Paris streets and cafes. In addition to his reportage, he photographed many French artists including Giacometti, Cocteau, Leger, Braque, and Picasso.

Edouard Boubat's (1923-1999) interest in photography began after World War II. "Because I know war... because I know the horror, I don't want to add to it. ...After the war, we felt the need to celebrate life, and for me photography was the means to achieve this..." he said. Photojournalism afforded him a certain freedom that was rare during that troubled time. He also admits that it was the sense of adventure that attracted him to the field. Boubat had the rare talent for capturing fleeting moments or magical instants.

Willy Ronis was born in Paris in 1910. He became a full-time photographer in 1945. His love of music and early photography developed Ronis' sense of composition. This led to a career in photojournalism, and, as a result, Ronis became part of the great Parisian group of documentary photographers that also included Henri Cartier-Bresson and Robert Doisneau. He joined Doisneau at the Rapho Agency, and was the first French photographer to work for LIFE Magazine. Edward Steichen exhibited him at the Museum of Modern Art in 1953 in Four French Photographers. He was also part of the legendary Family of Man exhibit. Willy Ronis' photographs illustrate perfectly the French "joie de vivre."