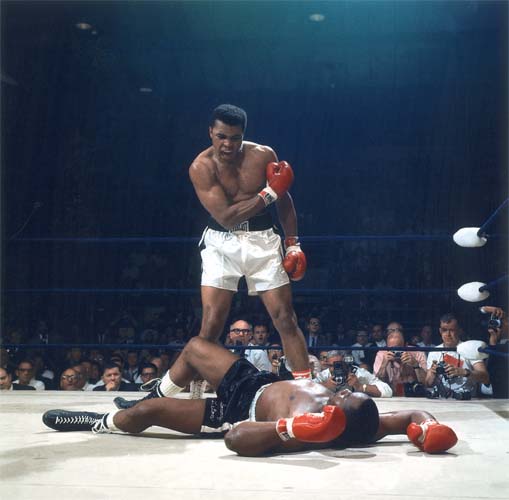 NEIL LEIFER
ICONS OF SPORTS HISTORY
SANTA FE — We are pleased to host Neil Leifer for his second major exhibition at Monroe Gallery of Photography. The exhibition celebrates the release of the new book "Neil Leifer: Portraits." Neil Leifer will be present for the opening reception on Friday, September 19, 5 - 8 PM, and the exhibition continues through November 23.

"Neil Leifer: Portraits" is a stunning collection of 100 photographs, and is published by St. Ann's Press, a publishing company dedicated to producing fine art books specializing in photography. The book features an introduction by Tom Brokow. Monroe Gallery of Photography will be the first venue to have this book available; a national release and book tour follows. Signed books are available from the gallery.

Neil Leifer is responsible for photographing many of the images we hold in our minds of the iconic figures of sports history. In addition to Leifer's most memorable images, this exhibition features numerous never-before-exhibited photographs of sports heroes in the prime of their famous careers: Willie Mays, Roberto Clemente, Sandy Koufax, Yogi Berra, Casey Stengle, Mickey Mantle with Roger Maris and Clete Boyer; Sonny Jurgenson, Vince Lombardi, Jim Brown, Alan Ameche, Joe Namath, Roger Staubauch (in the huddle during the 1963 Army Nay game); Arnold Palmer; Secretariat; Bowler Dick Weber, and of course Muhammad Ali. Also included in the exhibition are notable photographs of historic moments that shaped the context of our collective memories of these times: American Nazi Party Demonstrations (protesting to keep the "Redskins White" at District of Columbia Stadium, 1961), National Guard Riot Training (1967), President John F. Kennedy (at midfield for the 1962 Army Navy Game, this image contrasts emotionally with the photograph of Roger Staubauch in the huddle during the 1963 Army Navy game, which was played during the nation's mourning period for Kennedy's assassination, at the request of the Kennedy Family), Ronald Reagan with Mikhail Gorbachev (1985), and Fidel Castro (1984).