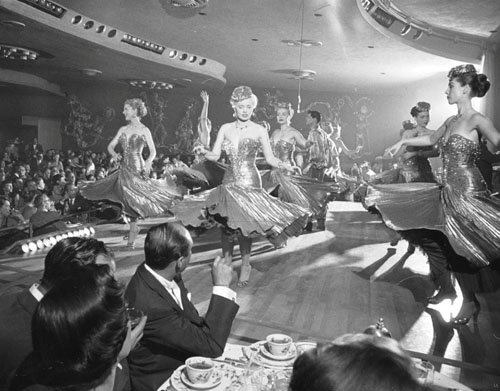 ON THE TOWN
2009-11-27 - 2010-01-31
Santa Fe - Monroe Gallery of Photography, 112 Don Gaspar, is pleased to announce "On The Town", an extensive survey of more than 50 classic photographs depicting the celebrations of life as captured by renowned photographers. The exhibition opens with a reception on Friday, November 27, from 5 to 7 PM. "On The Town" will continue through January 31, 2010.
Just in time for the holidays, the exhibition portrays social rituals and people having fun at public places like bars, restaurants, and theaters. "On the town" is probably derived from the old English saying "going to town": "to arrive or make one's mark where significant things are happening". The American adaptation "on the town" came to mean "in spirited pursuit of the entertainment offered by a town or city", probably dating from the 19th century when going to town for an outing or a spree was a big day for country folk.
The subject has provided rich material for photographers for decades: magnificent environments, beautiful and exquisite women and handsome and poised men celebrating with exuberance and gusto. Also pictured are some of the simpler pursuits of entertainment, such as when the drive-in theater and drive-in restaurant were novel and luxurious attractions.
Going "on the town" has been a pastime for generations, when times are good and when times are tough, people want to be happy. Monroe Gallery of Photography invites you to join the festivities!