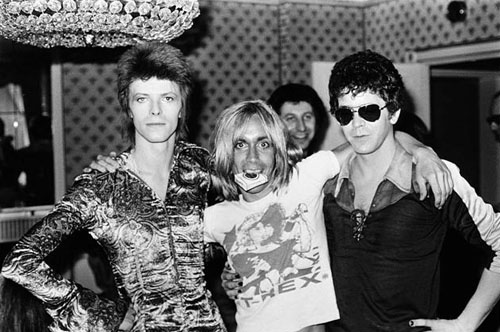 SHAKE, RATTLE, AND ROLL
PHOTOGRAPHS THAT ROCK!
Santa Fe--Monroe Gallery of Photography, 112 Don Gaspar, is pleased to announce "SHAKE, RATTLE, AND ROLL": Photographs That Rock!, an exhibition of great photographs from the history of rock and roll music. The exhibition opens with a reception with several photographers present on Friday, January 17, from 5 to 7 PM. A special reception will also be held on Friday, February 21, in celebration of ART FEAST. "SHAKE, RATTLE, AND ROLL" will continue through March 2, 2003.

Rock and Roll has been a major force since 1954. The story of Rock and Roll is also the story of American popular music: a musical evolution from blues, rhythm, and jazz. Photographers were on the scene to document the exciting and often controversial performers, first for newspapers and magazines; and eventually an entire industry was created in response to the record companies' need for constant material for publicity and album promotion. Included in the exhibition are spontaneous concert images, impromptu images from dark back rooms and nightclubs, and meticulously composed studio sessions.

Photographers featured in the exhibition include: Mick Rock, known as "the Man Who Shot The Seventies" after his work with David Bowie, Queen, and Lou Reed; Elliott Landy, the official photographer for Woodstock; Mark Seliger, current chief photographer for Rolling Stone, and Bob Gruen, one of rock's foremost documentary photographers, renowned for his work with John Lennon. Included in the exhibition is the iconic photograph of John Lennon and Yoko Ono by Annie Leibovitz, made only hours before Lennon's assassination in 1980. Photographs by Douglas Kent-Hall, Paul Slaughter, Alfred Wertheimer, Norman Mauskopf, Bill Ray, John Dominis, Norm Bergsma, and others are also in the exhibition.

Musicians shown in the exhibition include: The Beatles, David Bowie, Johnny Cash, Chubby Checker, The Clash, Kurt Cobain, Roger Daltry, Miles Davis, Bob Dylan, Alan Freed, Jerry Garcia, The Grateful Dead, Debbie Harry (Blondie), Jimi Hendrix, Mick Jagger, Janis Joplin, B. B. King, Lenny Kravitz, John Lennon, Freddy Mercury, Ethel Merman, Keith Moon, Jim Morrison, Yoko Ono, Wilson Pickett, Iggy Pop, Elvis Presley, Johnny Ray, The Ramones, Lou Reed, Little Richard, Mick Ronson, Johnny Rotten, The Sex Pistols, Tina Turner, Lucinda Williams, Neil Young, Led Zeppelin, and others.