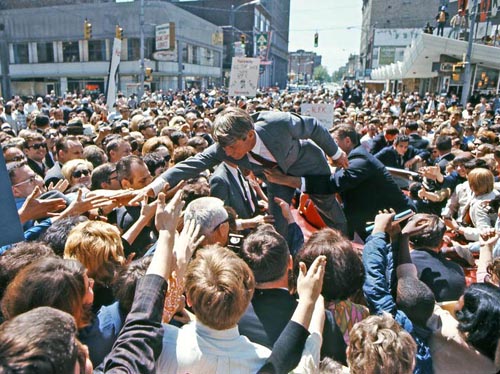 The Campaign
Selected moments of Presidential campaigns past.
2020-09-18 - 2020-11-15
For several decades the campaigns of Presidential hopefuls have been documented by press photographers. The pictures made by these photographers explore the human dimension of the process by which Americans choose their president. The defining moments of a campaign are distinctly personal, as candidates encounter and make their case to voters face to face.
Technological advances have changed the way photographers have covered campaigns over the last 25 years. This year the Presidential race may be largely covered in a virtual reality as the Covid-19 pandemic is affecting every aspect of our daily lives and traditional campaigning will not be possible.
The exhibit looks back to the time when photographing presidential campaigns often required patience and endurance: long days were the norm, and getting beyond the carefully constructed stagecraft and tightly scripted events could be a challenge. Campaign staff and security frequently monitor (and control) the movement of media; capturing iconic visual symbols of democracy in action was the forte of the successful campaign photograph.
"Reporters listen, photographers look" – Bill Eppridge, on the 1968 Robert F. Kennedy campaign