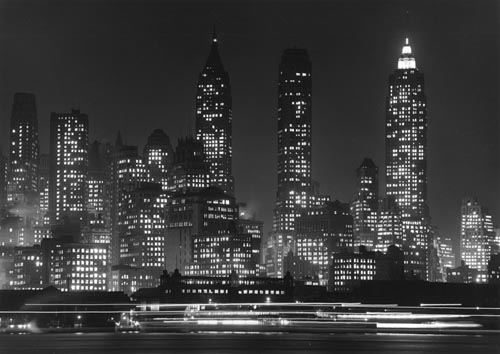 THE CITY OF NEW YORK
Exhibition of classic photographs portraying the iconic City
Santa Fe--Monroe Gallery of Photography, 112 Don Gaspar, is pleased to announce the exhibition "The City Of New York", an extensive survey of more than 60 classic photographs portraying the iconic city as captured by renowned photographers. The exhibition opens with a public reception on Friday, February 6, from 5 to 7 PM. "The City Of New York" will continue through April 19.
The City of New York, most often called New York City, is the most populous city in the United States, in a metropolitan area that ranks among the world's most-populous urban areas. It is a leading global city, exerting a powerful influence over worldwide commerce, finance, culture, and entertainment.

All of these features have made the City itself, its buildings, people, streets, and the daily human experience, a compelling subject for photographers for over 100 years. Gathered together in this exhibition for the first time are evocative photographs made by over 30 photographers, covering the gamut from iconic and monumental to tender and personal images.

Featured in the exhibition are photographs by Berenice Abbott, Eddie Adams, Margaret Bourke-White, Cornell Capa, Ted Croner, Alfred Eisenstaedt, Vivian Cherry, Andreas Feininger, Paul Flaggmann, Ernst Haas, Brian Hamill, Bill Ray, Carolyn Schaefer, Steve Schapiro, and many, many others. Subjects photographed include the Empire State Building, The Chrysler Building, the old Pennsylvania Station, The Flatiron Building, the Statue of Liberty, Yankee Stadium, and the World Trade Towers; Babe Ruth, Jackie Robinson, John Lennon, Woody Allen; and the details of people on their daily rounds.