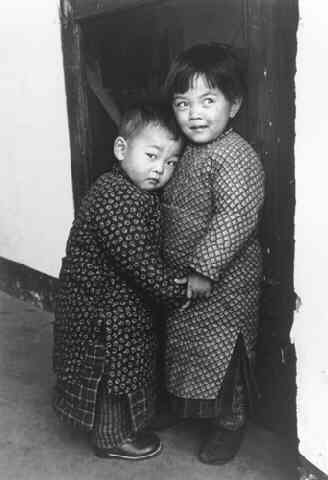 WHEN WE WERE YOUNG
Exhibition explores childhood years throughout the 20th Century
2005-07-08 - 2005-10-02
Santa Fe — Monroe Gallery of Photography, 112 Don Gaspar, is pleased to announce: "When We were Young," an exhibition exploring childhood years as documented by over 25 leading photojournalists throughout the 20th Century. The exhibition opens with a public reception on July 8, 2005, from 5 - 8 PM. The exhibition opening coincides with Photo Arts Santa Fe, a biennial ten day summer festival celebrating and showcasing the photographic arts. The exhibition will continue through October 2.

Through more than 55 photographs, this major exhibition explores the joys, vulnerabilities, lost innocence and indomitable resilience of childhood years throughout the 20th Century, as captured by over 25 leading photojournalists. Photographs in the exhibition are certain to evoke memories in the viewer: some are personal, tied to experiences in our own lives; others are collective, shared memories of key events in our time.

In the exhibition we see children at work, including historic images made by Lewis Hine in the early 1900's that drew public attention to these young workers as he revealed their "Faces of Lost Youth". There are heartbreaking scenes of children during immigration voyages and as refugees from wars and famine. Included are shocking photographs: two young German boys attending a Nazi Storm Trooper's training class in 1938 by Margaret Bourke-White; and young Vietnamese children fleeing a Napalm strike during the Vietnam War by Nick Ut. Extraordinary compassion is illustrated in a tender photograph of Mother Teresa cradling an arm-less baby girl at her order's orphanage in Calcutta, India, in 1978.

There are exuberant images of young children acting out as rock stars and enjoying pastimes such as county fairs, hay fights and fishing. The exhibit includes endearing photographs of Eleanor Roosevelt escorting a troupe of children to a picnic, Babe Ruth entertaining orphan children in the dugout, and Jacqueline and John Kennedy sharing intimate moments with a then-young Caroline and John Jr.

Altogether, the exhibition features more than 55 photographs. Some are well-known, many are rarely-seen. The exhibition features the first-ever showing of signed photographs by the great photojournalist Eddie Adams, who died last year at age 71. Also included are photographs by Harry Benson, Margaret Bourke-White, Vivian Cherry, Alfred Eisenstaedt, John Dominis, Louis Hine, Carl Mydans, Ruth Orkin, Willy Ronis, Mark Shaw, Nick Ut, Ida Wyman, and many others.