"UNDERFIRE: The Untold Story of Pfc. Tony Vaccaro" Now on DVD
November 11, 2017 | Source: Monroe Gallery of Photography

UNDERFIRE: The Untold Story of Pfc. Tony Vaccaro DVD with Extras - PRE-ORDER NOW
Pfc. Tony Vaccaro played two roles during WWII: combat infantryman and unofficial photographer. At great personal risk, he shot and developed 8,000 photographs from the front lines that showed the camaraderie, the bravery and the tragedy of war - in a way no one had done before. Directed by Max Lewkowicz. An HBO Film.

71 Minutes. DVD Extras included. Closed Captions.

Pre-Order Now. Expected Delivery December 2017.
ORDER Here $23.99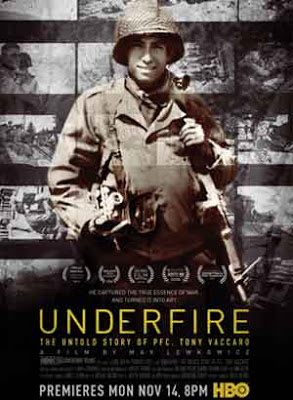 Directed by Max Lewkowicz (the New York Emmy-winning Morgenthau), UNDERFIRE: The Untold Story of PFC. Tony Vaccaro is the remarkable story of WWII infantryman and photographer Tony Vaccaro, who created one of the most comprehensive, haunting and intimate photographic records of combat.

Through interviews with Pulitzer Prize-winning photographers and Vaccaro himself, this moving film examines issues raised by witnessing and recording conflict, following him as he retraces his journey across Europe as a soldier, sharing the stories behind some of his most powerful pictures along the way.

Featuring contributions from Pulitzer Prize-winning NY Times photographer Tyler Hicks, Anne Tucker, curator of the Fine Art Museum of Houston, James Estrin, of the Times, and John Morris, former photo editor of Life Magazine and Robert Capa. Executive Produced by Tim Van Patten (Game of Thrones, Sopranos). An HBO Film.

*Emmy Nominated for Outstanding Historical Documentary.
DVD Special Feature Extras Include:

- Tony Vaccaro Photographer (Alternate Segment)
- Tony with Mike in Normandy (Extended Scene)
- Omaha Beach Landing (Deleted Scene)
- Moment of Death (Extended Scene)
- Gott Mit Uns (In God We Trust) (Extended Scene)
- 83rd Infantry Division Europe Signal Corp Film

Engrossing, unexpectedly moving..." -Kenneth Turan, Los Angeles Times
"Tony Vaccaro's life was forged by pain and courage. Passion saved his life and enriched ours." - Tim Van Patten, director Game of Thrones, The Sopranos
"No one got closer than an infantryman in war, and no one got closer than Tony." -Alex Kershaw, Historian and New York Times best-selling author, "The Liberator"





Monroe Gallery of Photography is pleased to represent the fine art photography of Tony Vaccaro. "Tony Vaccaro at 95" will be on view in the gallery November 24 - January 21, 2018.