Day to Night: In the Field With Stephen Wilkes at the National Geographic Museum
January 26, 2018 | Source: Monroe Gallery of Photography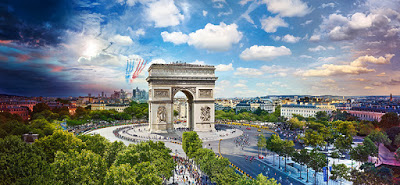 Tour de France, Paris, Day to Night, 2016 / Photograph by Stephen Wilkes
Via National Geographic
Photographer
Stephen Wilkes
is recognized around the world for his stunning image compositions of landscapes as they transition from day to night. Each of these dramatic images is meticulously crafted from more than 1,500 photographs taken from a fixed vantage point over the course of 15 to 30 hours, from sunrise to sunset. Stephen spent much of 2017 on assignment documenting bird migration routes for National Geographic magazine. This exhibition takes you into the field and behind the scenes, shining a light on the talent and dedication it takes to beautifully capture the passing of time. On exhibit February 13 - April 22, 2018.
More information here
.
Talk
Day to Night: An Evening With Stephen Wilkes Tuesday, February 13, 2018
Tuesday, February 13, 2018
Stephen Wilkes' Day To Night collection will be on exhibit at Monroe Gallery of Photography Oct. 5 - Nov. 18, 2018.