February 10 in Santa Fe: Steve Schapiro, "Eyewitness"
January 23, 2017 | Source: Monroe Gallery of Photography
Steve Schapiro: CORE "Stall-In", 1964 World's Fair, New York
STEVE SCHAPIRO: EYEWITNESS
Santa Fe--Monroe Gallery of Photography, 112 Don Gaspar, is honored to announce an extensive exhibition of photographs from key moments in the Civil Rights movement by one of the most respected American documentary photographers,
Steve Schapiro
. The exhibition opens with a reception for Steve Schapiro on Friday, February 10, from 5 to 7 PM, and will continue through April 23.
Schapiro's photographs are made more timely with the recent Presidential campaign and election. President
Trump's recent criticisms of civil-rights leader John Lewis drew widespread criticism and have done little to reassure those uneasy about the transition from the nation's first black president to a president still struggling to connect with most nonwhite voters.
This was the first presidential election since the gutting of the Voting Rights Act and there are lingering concerns Attorney General Nominee Jeff Sessions may further roll-back civil-rights protections.
"EYEWITNESS" celebrates the completion of a project based on James Baldwin's 1963 book, "The Fire Next Time". Steve Schapiro's photographs documenting the civil rights movement from 1963 "" 1968 are paired with essays from "The Fire Next Time" by James Baldwin in a major book to be published in March.
Schapiro covered many stories related the Civil Rights movement, including the March on Washington for Jobs and Freedom, the push for voter registration and the Selma to Montgomery march. Called by Life to Memphis after Martin Luther King Jr.'s assassination, Schapiro produced some of the most iconic images of that tragic event. When the civil rights movement came to a crossroads during the Selma-to-Montgomery march of 1965, photographer Steve Schapiro captured an iconic moment from the march in an image of Dr. Martin Luther King linking arms with fellow civil rights activists John Lewis, the Rev. Jesse Douglas, James Forman and Ralph Abernathy. The image captures the leadership, the unity, and the strength of the civil rights leaders, who faced violence from law enforcement as well as death threats during their fight for voting rights for African Americans.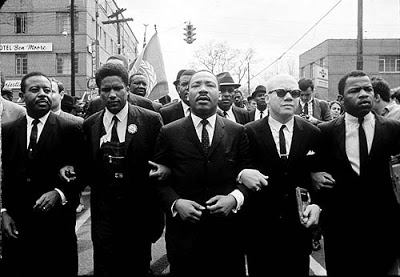 Steve Schapiro: Martin Luther King Marching for Voting Rights with John Lewis, Reverend Jesse Douglas, James Forman and Ralph Abernathy, Selma, 1965
Schapiro discovered photography at age of nine at a summer camp. Excited by the camera's potential, he would spend the next decades prowling the streets of his native New York trying to emulate the work of the great French photographer Henri Cartier-Bresson. His first formal education in photography came when he studied under the photojournalist W. Eugene Smith, and shared Smith's passion for black and white documentary work. From the beginning of Schapiro's career, he had already set a mission for himself: to chronicle the "American Life".
Schapiro spent several weeks in the South with James Baldwin and became involved in many civil rights stories; he traveled with Bobby Kennedy on his Senate campaign and Presidential campaign; and did photo essays on Haight Ashbury, the Pine Ridge Sioux Indian Reservation, and Protest in America. He photographed Andy Warhol and the New York art scene, John and Jacqueline Kennedy, poodles, beauty parlors, and performances at the famous Apollo Theater in New York. He also collaborated on projects for record covers and related art. As picture magazines declined in the 1970's and 80's he continued documentary work but also produced advertising material, publicity stills and posters for films, including, The Godfather, Rambo, The Way We Were, Risky Business, Taxi Driver, and Midnight Cowboy. From 2000 through 2003 he was a contributing photographer for American Radio Works (Minneapolis Public Radio) producing on-line documentary projects. Schapiro has photographed major stories for most of the world's most prominent magazines, including Life, Look, Time, Newsweek, Sports Illustrated, Rolling Stone, People, and Paris Match.
Since the Metropolitan Museum of Art's seminal 1969 exhibition, Harlem on my Mind, which included a number of his images, Schapiro's photographs have appeared in museum and gallery exhibitions world-wide. The High Museum of Art's Road to Freedom, which traveled widely in the United States, includes numerous of his photographs from the civil rights movement and Martin Luther King Jr. Recent one-man shows have been mounted in Los Angeles, London, Santa Fe, Amsterdam, Paris, and Berlin. Steve has had large museum retrospective exhibitions in the United States, Spain, Russia, and Germany.
Schapiro continues to work in a documentary vein. His recent series' of photographs have been about India, Music Festivals, Mercicordia, and Black Lives Matter. Schapiro's work is represented in many private and public collections, including the Smithsonian Museum, the High Museum of Art, the New York Metropolitan Museum and the Getty Museum. He has recently received the James Joyce Award and a fellowship to University College in Dublin.
Gallery hours are 10 to 5 daily.. Admission is free. For further information, please call: 505.992.0800; E-mail:
info@monroegallery.com
.