Great French Photographer Willy Ronis Dead at 99
September 12, 2009 | Source: Monroe Gallery of Photography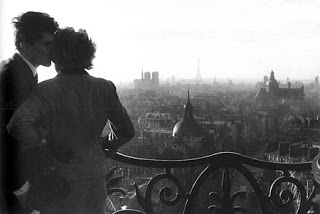 September 12, 2009
©The Associated Press
Published in The New York Times
PARIS (AP) --
Willy Ronis
, the last of France's postwar greats of photography who captured the essence of Paris in
black and white scenes of everyday life
, died Saturday. He was 99.
Ronis died at a Paris hospital where he had been admitted days earlier, said Stephane Ledoux, the president of the Eyedea photo agency.
Lovers, nudes and
scenes from Paris streets
were the mainstay of Ronis' photographs, which reflect the so-called humanist school of photography in an award-winning career that began in the 1930s and reaped honors for him in France and abroad.
In a wheelchair and on dialysis for some time, the mustachioed Ronis nevertheless managed to address the crowd at the annual Arles photographic exhibition in July, where he was honored.
''We have lost the last of the great men,'' said Stephane Ledoux, head of the Eyedea agency, which took over the Rapho Agency that for decades handled Ronis' photographs.
Ronis, along with friend Robert Doisneau and photojournalist Henri-Cartier Besson, were among France's great photographers who emerged after World War II. The three along with two other photographers were honored as early as 1953 by the Museum of Modern Art in New York.
Ronis' genius spilled forth in his spontaneous photos of the streets of working class Paris, from its bistros to its lovers and gardens and even its strikes, always captured with a benevolent eye.
''I never took a mean photo,'' Ronis in an interview with The Associated Press in 2005. ''I never wanted to make people look ridiculous. I always had a lot of respect for the people I photographed.''
Photographs of eastern Paris, where Ronis lived, were collected in a book of the Belleville and Menilmontant neighborhoods that reached cult status in France. His photos of lovers
against the Paris skyline
or a
nude at a wash basin
also helped define him. Ronis' last photo, taken in 2001, was of a nude.
Born in Paris on Aug. 14, 1910
,
Ronis
studied violin, but gave up a music career to take over the family photo studio when his father, Emmanuel Ronis, fell ill. For four years, he photographed weddings, babies and communions.
A month after his father died in 1936, Ronis did his first reportage, a Bastille Day parade. He worked steadily until World War II, when he joined the army. When the Nazis invaded France, Ronis, born to Jewish parents who had fled the pogroms, moved to unoccupied France.
The golden age of photography followed, and Ronis emerged as one of its leaders.
French President Nicholas Sarkozy praised Ronis as the ''chronicler of postwar social aspirations and the poet of a simple and joyous life.''

Culture Minister Frederic Mitterrand said Ronis immortalized ''for each of us the poetry of our daily lives and saved it from lost time. This immense narrator gave us a gift that will last forever.''

Ronis worked for numerous publications, including Life magazine, and collected dozens of honors throughout his career, in France, the U.S. and elsewhere.

After nearly 75 years of taking pictures, Ronis, encumbered by canes and no longer able to snap photos, set aside his camera.
''If I can't run, climb up onto a bench ... rush toward something I see far away that might interest me, it's over,'' Ronis said in the AP interview. Age, however, did not defeat Ronis. At 85, he went skydiving, snapping a photo of himself on the way down, his typical childlike joy showing through.

His numerous awards began with the Kodak prize in 1947. A decade later, he received the gold medal at the Venice Biennale. In 2007, he was honored in New York at the 5th annual Lucie Awards, which celebrates photographers, for lifetime achievement.

Ronis is an Officer in France's prestigious National Order of Merit and was named a Commander of Arts and Letters. In 1983, Ronis bequeathed his works to the French state.
There was no immediate information on funeral arrangement or survivors.