LEGENDARY PHOTOGRAPHER TONY VACCARO TO APPEAR IN SANTA FE TO CELEBRATE HIS 97th BIRTHDAY
November 28, 2019 | Source: Monroe Gallery of Photography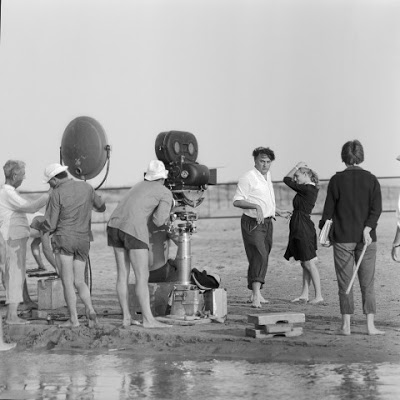 Tony Vaccaro

Fellini on the set of "La Dolce Vita", Italy 1969



Monroe Gallery of Photography is honored to announce "La Dolce Vita", a major exhibition of more than 40 photographs by Tony Vaccaro. The exhibit opens with a public reception for Tony Vaccaro, about to turn 97, on Friday, November 29 from 5 - 7 PM. The exhibit continues through January 19, 2020 and includes several new discoveries from his archive being exhibited for the very first time, and six vintage darkroom prints from World War II. The war prints are one-of-a-kind: the nitrate negatives completely turned to dust.





Tony Vaccaro photographed on the set of "La Dolce Vita", and nearing age 97, he indeed is living "the good life". On November 1 Tony was inducted into the International Photography Hall of Fame and Museum for his "artistry, innovation, and significant contribution to the art and science of photography", and following the 2016 HBO Films documentary "Under Fire: The Untold Story of Private First Class Tony Vaccaro" he has enjoyed a career renaissance world-wide.




At the age of 21, Tony was drafted into World War II, and by June of 1944, now a combat infantryman in the 83rd Infantry Division, he was on a boat heading toward Omaha Beach, six days after the first landings at Normandy. Denied access to the Signal Corps, Tony was determined to photograph the war, and had his portable 35mm Argus C-3 with him from the start. For the next 272 days, Tony fought and photographed on the front lines of the war.




After the war, Tony remained in Germany to photograph the rebuilding of the country for Stars And Stripes magazine. Returning to the US in 1950, Tony started his career as a commercial photographer, eventually working for virtually every major publication: Look, Life, Harper's Bazaar, Town and Country, Newsweek, and many more. Tony went on to become one the most sought after photographers of his day, photographing everyone from President John F. Kennedy and Sophia Loren to Pablo Picasso and Georgia O'Keeffe.




Tony still carries a camera and puts in six or seven hours daily without a break; creating prints in his studio and identifying jobs for his staff.

Monroe Gallery will sponsor a free screening of "Under Fire: The Untold Story of Private First Class Tony Vaccaro" in the gallery on Saturday, November 30, starting at 5 pm. Seating is limited, RSVP required. The screening will be followed by a Q & A with Tony Vaccaro. Tony Vaccaro celebrates his 97th birthday on December 20.