Library of Congress Magazine: Great Photographs
November 7, 2020 | Source: Monroe Gallery of Photography
Via Library of Congress magazine
November/December 2020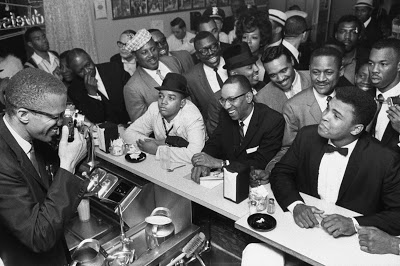 Bob Gomel. "Black Muslim Leader Malcolm X Photographing Cassius Clay Surrounded By
Fans After He Beat Sonny Liston For The Heavyweight Championship, Miami, February, 1964." Gelatin Silver Print. © Bob Gomel, Used By Permission.
Malcolm X and Cassius Clay
Memorable photographs often capture historic moments, such as this meeting of two consequential figures.
On Feb. 25, 1964, Cassius Clay defeated Sonny Liston to become the heavyweight boxing champion of the world. Afterward, Clay's family and friends gathered for a victory celebration at a diner in Miami. They were accompanied by Life magazine photographer
Bob Gomel
and Clay's own photographer, Howard Bingham.
Gomel climbed up on the counter to record Malcolm X, civil rights activist and a leader of the Nation of Islam, aiming his camera at a tuxedo-clad Clay. The next day, Clay announced his conversion to Islam.
He would adopt a new name, Cassius X, which later changed to Muhammad Ali.
—Beverly Brannan and Adam Silvia
Monroe Gallery of Photography was honored to work with the Library of Congress on their acquisition for their permanent collection of Bob Gomel's iconic photograph.