"Life Is Wonderfull" showcases the life's work of 98-year-old top photographer Tony Vaccaro from World War II to fashion and art
June 16, 2021 | Source: Monroe Gallery of Photography
Via YLE (translated from Finnish)
June 13, 2021
BY STINA ALAPIRTTI
Art Hall's summer exhibition is about war, love and Marimekko - a 98-year-old American photographer dreamed of an exhibition in Finland for a long time
The exhibition, called Life Is Wonderful, showcases the life's work of 98-year-old top photographer Tony Vaccaro from World War II to fashion and art. There are also plenty of pictures of Finland and Marimekko in the 1960s.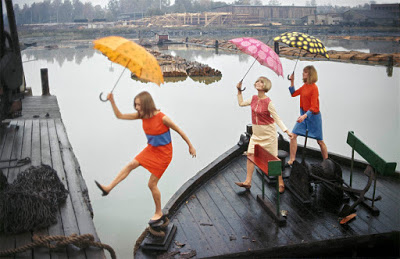 Helsinki Art Hall is a life of history in itself, but photographs from the middle of the 20th century bring a new layer to it. In the photographs, world stars, soldiers and models come to life for a moment, as if there were small windows to the past on the walls. One room is dedicated entirely to Marimekko, who turns 70 this year.
Photographer Tony Vaccaro's exhibition will be on display at the Helsinki Art Hall during the summer
Life is wonderful
. Vaccaro is a 98-year-old American-Italian photographer who began his career filming on the front in World War II. He still works even though he retired officially as early as the 1980s.
Exhibition Manager Eeva Holkeri from The Art Hall of Helsinki says that Vaccaro has wanted to get the exhibition to Finland for a long time. Life is wonderful is his first extensive exhibition here.
"Vaccaro has a connection to Finland through his late wife Anja Vaccaro, but also through Marimekko. The gallery representing Vaccaro was asked if such an exhibition would succeed," Holkeri says.
Anja Vaccaro was related to Lehto. The photographer and Lehto, who worked as Marimekko's model, fell in love on the set of Marimekko.
Vaccaro's studio is now run by Vaccaro and Lehto's son Frank Vaccaro and his wife.
The exhibition contains 130 photographs from Vaccaro's nearly 80-year career. According to Holker, the demarcation was a challenging task, but at present the exhibition creates a comprehensive picture of Vaccaro's production from the 1940s until the 1970s.
The pictures will be available at the Helsinki Art Hall in Töölö on 8 May. Until 18 August.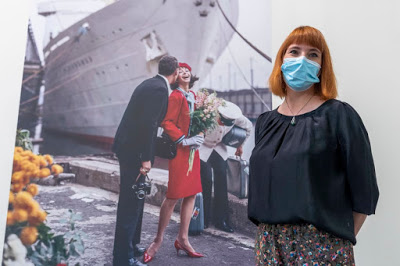 According to exhibition manager Eeva Holker, the Life is Wonderful exhibition shows a cross-section of Vaccaro's entire production. In the background, a fashion photo taken by Vaccaro.
Photo: Terhi Liimu / Yle
Tough background
Michael "Tony" Vaccaro was born in 1922 in Pennsylvania, USA to immigrant parents from Italy. The family soon moved back to Italy, where they were met with great grief. Both parents passed away and Tony Vaccaro was orphaned at the age of four. Her sister was put in an orphanage, and little Tony was brought to her uncle's farm to be raised by her grandmother and uncle. Uncle abused Tony, who also had to work on the farm.

Tony Vaccaro left for the United States at the age of just 17, in the run-up to World War II in 1939. The departure was partly influenced by the fascism that invaded Italy. In the United States, Vaccaro went to high school and joined the army. He was sent to the front in 1944.
Vaccaro was interested in photography at school and bought his first camera in 1942. In the war, he was sent to the front line, and Vaccaro took about 8,000 photographs in the midst of the war. After the war ended, he stayed in Europe to photograph the trail and reconstruction of the war and returned to the United States in 1949.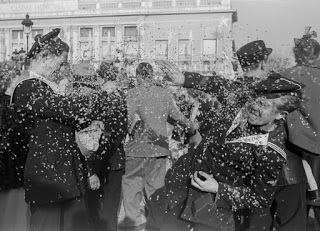 Vaccaro fought in World War II and stayed after peace came to describe the reconstruction of Europe. This picture is from Nice, France dating back to 1947.
Photo: Tony Vaccaro / Art Hall

Although the first half of Vaccaro's life was fraught with difficulties, even war, according to Eeva Holker, she has still maintained a bright attitude to life and a quest for beauty.

"Even though Vaccaro started his career in The Second World War, his pictures show hope, joy and a glimpse of positivity. It seems justified to say that Vaccaro's attitude to life is that life is wonderful," Holkeri says.
Celebrity photographer
Vaccaro is especially well known as a fashion and lifestyle photographer. He filmed for several of the most important US period publications of that time, such as Life and Harper's Bazaar. The exhibition features pictures he took of public figures from the 1960s and 1970s, including Pablo Picasso, Muhammad Ali, Leonard Cohen, Jackson Pollock and Sophia Loren.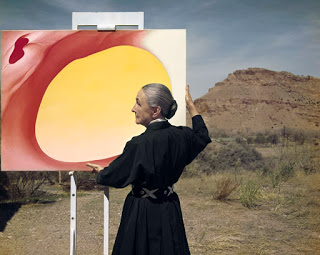 A picture taken by Vaccaro of artist Georgia O' Keeffe in front of her work. Vaccaro spent a long time with Georgia O'Keeffe in New Mexico in 1960.
Photo: Tony Vaccaro / Art Hall
A large part of the exhibition consists of pictures Vaccaro took of Marimekko's activities and fashion in 1965. Vaccaro came to Finland to describe Marimekko, who has become a phenomenon around the world, for Life magazine.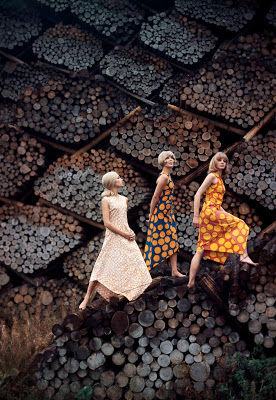 Marimekko was founded in 1951 and became an international phenomenon in the 1960s. Vaccaro photographed a fashion house in Porvoo and Helsinki in 1965. The photo shows models in Marimekko's clothes. Photo: Tony Vaccaro / Art Hall
Vaccaro photographed Finnish models in Porvoo and Helsinki, and in the pictures Marimekko's colourful dresses glow against the rainy industrial landscape and the models play in Finnish nature and on the streets of Helsinki.The pictures also show Vaccaro's future wife at the time: Finnish model Anja Kyllikki Lehto. Lehto and Vaccaro had met in 1963 in New York on Marimekko's business trip, on which Vaccaro had photographed Lehto."It is said that it was love at first sight. When Tony saw Anja, she knew she never wanted to let this go. Pictures of Anja show love, Holkeri says.Vaccaro and Lehto were married until 1979. They had two sons together. Lehto died in 2013.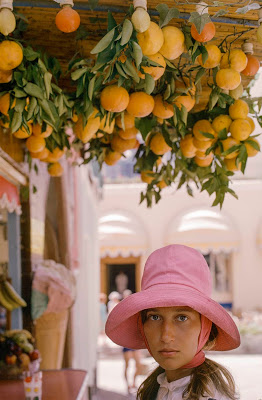 This picture, called Anja and oranges, was shot in Ischia, Italy, in 1964. The photo shows Vaccaro's spouse Anja Kyllikki Lehto, later Vaccaro.
Photo: Tony Vaccaro / Art Hall
View available original prints from Tony Vaccaro here