Monroe Gallery of Photography is honored to represent Tony Vaccaro
September 16, 2016 | Source: Monroe Gallery of Photography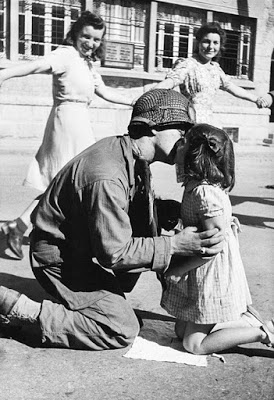 Kiss of Liberation: Sergeant Gene Costanzo kneels to kiss a little girl during spontaneous celebrations in the main square of the town of St. Briac, France, August 14, 1944
VACCARO STUDIO - MONROE GALLERY
New Partnership And Fall Schedule
Santa Fe, NM --
Monroe Gallery of Photography
is honored to announce an exclusive partnership with the Tony Vaccaro Studio for digital and analog print sales of Tony's iconic images.
Monroe Gallery of Photography was founded by Sidney S. Monroe and Michelle A. Monroe. Building on more than five decades of collective experience, the gallery specializes in classic black & white photography with an emphasis on humanist and photojournalist imagery- a perfect fit for the 450,000 images in the Vaccaro archive. Monroe Gallery will be exhibiting
Vaccaro's work
in the exhibition
"History in a Moment", September 30 to November
20. In a statement, the Monroe's commented: "It is a privilege to present Tony's historic career in photography, and we are pleased that his work will be featured in this important exhibit alongside so many other great 20th and 21st century photojournalists."
Monroe Gallery will also contribute to the success of a special pop-up gallery under the direction of veteran curator, and art critic Peter Frank. "Tony Vaccaro: War, Peace, Beauty", November 11 to 21, 2016, at 508 West 26th Street, 5th floor, in the West Chelsea Building, in New York City's Chelsea district. Just shy of 3,000 square feet, the exhibit will be open from 10:00 a.m. to 6:00 p.m. with an opening reception, Friday, November 11, 6 - 8 pm. Sidney and Michelle Monroe will be in attendance. Sundays the space opens at noon. A special exhibit of Vaccaro''s photographs will be on view at Monroe Gallery in Santa Fe through December 31, 2016.
"Tony Vaccaro now boasts a seven decade career capturing images iconic to the 20th century. He aimed his camera at the Second World War and its' aftermath with the same urgency and grace that made him one of the most artful postwar fashion and celebrity photographers. His portraits of artists, statesmen and women, invariably present their subjects deeply and vibrantly embedded in their milieus." - Peter Frank.
Soon to turn 94, Mr. Vaccaro still carries a camera and puts in six or seven hours without a break; creating prints in his darkroom and identifying jobs for the staff. Mr. Vaccaro recently finished a run of ten prints of Eleanor Roosevelt from 1946. Mr. Vaccaro will make appearances in Boston (Sept. 22), at the Margaret Mead film festival in NYC (October 15), at the ICP in NYC (Nov.10), and at his pop up show. A solo exhibit of Mr. Vaccaro's work will be presented at Monroe Gallery in Santa Fe, NM, in 2017.
Gallery hours are 10 to 5 Daily. Admission is free. For further information, please call: 505.992.0800; E-mail:
info@monroegallery.com
.
This Fall, the documentary film "Under Fire: The Untold Story of Private First Class Tony Vaccaro" will premiere at film festivals across the United States, and air nationally on HBO on November 14. The film tells the story of how Tony survived the war, fighting the enemy while also documenting his experience at great risk, developing his photos in combat helmets at night and hanging the negatives from tree branches. The film also encompasses a wide range of contemporary issues regarding combat photography such as the ethical challenges of witnessing and recording conflict, the ways in which combat photography helps to define how wars are perceived by the public, and the sheer difficulty of staying alive while taking photos in a war zone.
At the age of 21, Tony was drafted into the war and by June of 1944, he was on a boat heading toward Omaha Beach, six days after the first landings at Normandy. Tony was determined to photograph the war, and had his portable 35mm Argus C-3 with him from the start. For the next 272 days, Tony fought on the front lines of the war.
After the war, Tony remained in Germany to photograph the rebuilding of the country for Stars And Stripes magazine. Returning to the US in 1950, Tony started his career as a commercial photographer, eventually working for virtually every major publication: Look, Life, Harper's Bazaar, Town and Country, Newsweek, and many more. Tony went on to become one the most sought after photographers of his day, photographing everyone from Marilyn Monroe and Sophia Loren to Pablo Picasso and Frank Lloyd Wright.