Never-before-seen Kennedy family photos released
September 25, 2012 | Source: Monroe Gallery of Photography
Via CBS Morning News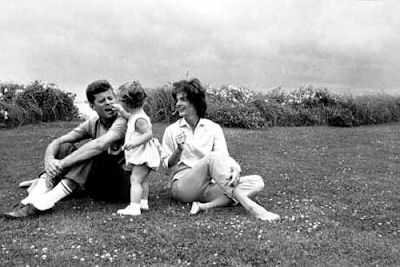 (CBS News) A collection of new photographs has been released nearly 50 years after the death of President Kennedy. The photos -- released in a new book, "
The Kennedys: Photographs by Mark Shaw
-- show JFK with his wife Jackie and their two children during intimate family moments
The late
"Life" magazine photographer, Mark Shaw
, and his wife, 81-year-old Pat Suzuki, grew to become close friends of the Kennedy family. The friendship allowed Shaw unprecedented access to the first family during the so-called era of Camelot.
In 1959, he was assigned to shoot a "Life" cover story on Jackie Kennedy, when her husband, then a Massachusetts senator, was making his presidential run.
Shaw captured the couple at home, on the campaign trail and at the office. The pictures were an immediate sensation and depicted the Kennedy family with an air of glamour that is atypical in the political realm. Shaw -- and his camera -- soon joined the family at the Inaugural gala, at the White House and on vacation in Hyannis Port, Mass. and Italy.
Kennedy biographer Mark Dallek says the photos added a previously unseen intrigue to political life.
"There's a sort of Hollywood quality to it, a sense that these are celebrities," Dallek told CBS News' Bill Plante. "These are people who are famous, and they enjoy their fame, and they enjoyed their notoriety and the public responds to it."
Dallek also claims the photos shaped the way JFK was perceived for decades to come.
"It was not just that he was handsome, but there was a kind of aura, a kind of charisma to the man that allowed him to capture the public imagination."
Though perhaps less comfortable in front of the camera, Jackie Kennedy nevertheless quickly became one of the world's most famous women, revered for her style and elegance.
Pat Suzuki remembers her camera-shy friend, "When she was under pressure and she had the paparazzi moving in on her, it made her...not so much self-conscious but it assaulted her sense of propriety," Suzuki told Plante. "It was hard on her in the beginning and then she learned to handle it," she added.
For a glimpse of Shaw's historic photos, watch the video above.
© 2012 CBS Interactive Inc.. All Rights Reserved.
Mark Shaw: The Kennedys book now available through Monroe Gallery of Photography
Mark Shaw: The Kennedys Exhibit at Monroe Gallery November 23 - January 27, 2013