The veteran photographer and writer Art Shay cites Honoré Daumier as a longtime inspiration for his focus on civil rights, social justice, and crime. The 19th-century caricaturist "taught me to aim my predatory camera at the contumely, at snobbery, pretensions, cruelty, and the machinery of petty power," Shay writes in his 2000 book Album for an Age: Unconventional Words and Pictures from the Twentieth Century. "Daumier was the only master I really recognized," Shay told Pasatiempo in mid-November, "because I figured out that what he had done and the time he had done it, like the mid-1850s with a sketchpad, was an extraordinary achievement. I feel that some of my pictures capture some of what he was trying to capture."

A retrospective of Shay's images as a street photographer and from assignments with Life, Sports Illustrated, and other magazines, is now on exhibit at Monroe Gallery of Photography, and Shay plans to be there for the opening on Friday, Nov. 25. The last time he was in New Mexico, he was an air cadet — it was World War II, and he would soon be serving as a navigator in a Consolidated B-24 Liberator bomber on more than 50 missions.
Shay sometimes had occasion to use a camera in the war years. "As a matter of fact, I began my real photo career at an air base," he said. "After landing from a mission, I heard this great noise in the sky, and I looked up, and there were 200 planes gathering around a buncher beacon, which is a radio signal; they were all going out on another mission, and two of the Liberators suddenly hit, and 20 kids were killed. I had seven pictures of them coming down from impact to the ball of fire on the ground."


After the war, Shay was employed for two years as a staff writer at
Life
magazine. He wrote about those times in a 2011 story in the
Chicagoist
. "The best show," he wrote, "was the great
Life
photographers and contributing geniuses like Ansel Adams who desultorily milled around on the 31st floor where most of the magazine happened. The day I met Adams, a big, balding outdoorsy man, he was flummoxed by the very first electronic flash, sent by Heiland, a Milwaukee strobe firm. 'Imagine — not having to use flashbulbs!' Adams exclaimed to Margaret Bourke White." She then told the story of the time during the war that a flashbulb accidentally exploded as she was posing Joseph Stalin; afterward, the Soviet leader demanded she give him the film she had exposed as he hid behind a sofa.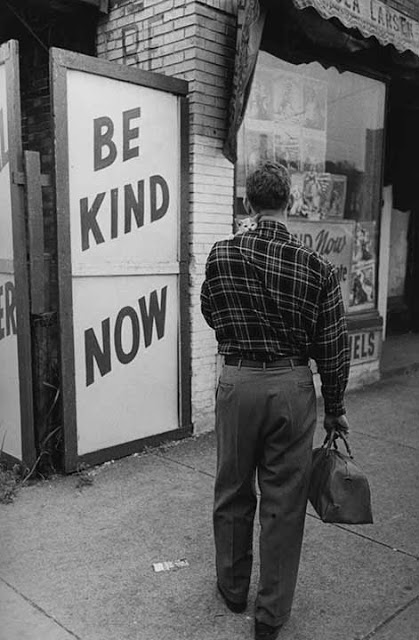 Art Shay: "be Kind Now", c1950
In 1949, Shay began working on a freelance basis for Life, Time, Sports Illustrated, and other magazines. A small sample of his deep portfolio boasts pictures of Marcel Marceau, the Supremes, Vince Lombardi, Jimmy Hoffa, Johnny Cash, Nikita Khrushchev, nine U.S. presidents, Cassius Clay, Judy Garland, and Timothy Leary. There are also hundreds (or thousands) of images of non-celebrities, the results of his candid work as a street photographer, which included a series of explorations of Chicago with writer Nelson Algren during the 1950s. Shay also worked with photographer Francis Reeves Miller on about 40 stories. According to the Chicagoist piece, Miller was the one who taught him "the art of hiding cameras in shoe shine boxes, briefcases, cigarette lighters, in elaborate bow ties, in holes in jackets my wife would come to hate. He taught me the art of the stakeout, especially of Mafia types."


More than 70 books bear Shay's authorship. "There were a lot of kids' books," he said by way of explanation. "I raised five kids, and I did things to answer their questions: 'What happens when you mail a letter, daddy?' 'What happens when you put money in the bank?' " So his resumé includes What It's Like to Be a Nurse and What Happens in a Car Factory, as well as 40 Common Errors in Golf and Winning Racquetball; in 2012, this veritable Renaissance man was inducted into the National Racquetball Hall of Fame.


Among the images in a 2002 book titled Animals are Kentucky Derby thoroughbreds and monkeys in little racing cars. "As a Life reporter," he writes in those pages, "I named the first pair of octopuses that mated in captivity." His 2003 book Couples has some splendid photographs of couples — and of a couple of pigs, a couple of men outside Ed's Tap & Restaurant, a couple of nuns, and a couple of clowns. He also wrote several plays. His most recent book is My Florence, a photo-essay on his beloved wife, who died in 2012. "She was a famous rare-book dealer and the friend of a lot of writing types and acting types," he said. "We just sent an invitation to one of them, David Mamet."


Another book is now in the works at University of Chicago Press. Its subject will be the same as was featured in last year's Shay exhibition at the Gage Gallery in Chicago. Called Troublemakers, the show focused on "the chaos Chicagoans experienced in their fight for civil rights from 1948 to 1970," according to a gallery description. "One of the images is of black people with a sign that says, 'If you believe in human rights, Mr. Mayor, how come there are no blacks in your neighborhood?' It's about the ironies of social change," Shay said. "There are pictures of kids demonstrating, a lot of police brutality, the 1968 Democratic National Convention, and also a lot of good kid pictures and some others about a human-rights battle in my own community, Deerfield, Illinois, in the early 1950s. There's lots of action and lots of violence. I've always been the go-to photographer in Chicago for this kind of picture, as well as for intellectual sports pictures like the guy in the vines."


It was less than two weeks after the Chicago Cubs had stunned the sports world by winning the World Series, and we had already discussed Shay's great 1961 photo of an outfielder trying to catch a fly ball while almost totally submerged in the famous ivy at the back of Wrigley Field. The image shows a line of fans leaning out of the stands reacting to the baseball about to enter the gloved hand sticking out of the tangle of vines.


Asked about favorite cameras over the years, Shay said, "I was mostly a Leica user, an experimenter, and I'd adapt to all kinds of activities. My background was as a reporter and then a bureau chief at Life magazine; I was the youngest bureau chief. When I was twenty-six or twenty-seven, I was head of the San Francisco bureau. I still have a bunch of cameras and camera parts that I gaze at fondly every now and then. And I would design trick cameras for certain uses. I did about 80 Mafia stories — with a hidden camera, usually. My wife was my assistant, and she had a favorite purse camera, with which she nailed the head of the Cleveland Mafia, a guy named Moe Dalitz, who was two tables away."


The Monroe Gallery show features 50 photographs, a pithy sampling from a very long career. "I've had something like 1,200 magazine covers," Shay said. "That's a lot of comings and goings and packings and unpackings."