"The Soiling of Old Glory": The Power of a Photograph
July 16, 2011 | Source: Monroe Gallery of Photography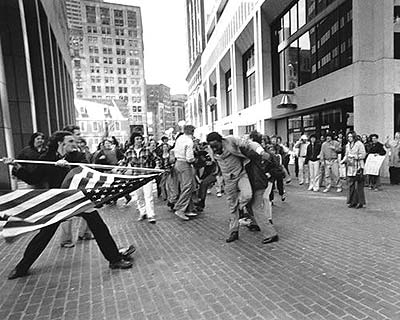 "The Soiling of Old Glory": The Power of a Photograph Lecture by Louis Masur

Thursday, July 14 7-9pm
Fairfield Museum and History Center, Fairfield, CT
$8; Members and Students, $3
To register in advance, call 203-259-1598.

Join us for Trinity College Professor Louis Masur's engaging discussion of The Soiling of Old Glory, a 1976 Pulitzer Prize winning photograph by Stanley Forman. Learn how an harrowing image of an angry white teenager brandishing an American flag at an African-American man crystallized complex issues about forced busing.





Taken in April of 1976, the photograph is of Theodore Landsmark, an African American lawyer heading to Boston's city hall for a case. Here he encountered over one hundred and fifty anti-busing youths from South Boston and Charleston protesting the decision to bus in students from Roxbury, an African American suburb. Entering into this, Landsmark was attacked, ironically, with an American flag, in Boston, home of the Revolution, on the 200th anniversary of the United States. The photo won freelance photographer Stanley J. Forman of the Boston Herald American a Pulitzer Prize.


On April 5, 1976, Stanley Forman, age 30, reported to work early, as he always did. A photographer for the Boston Herald American, Forman had a nose for the news. A year before he had raced to a fire in Boston and captured a horrifying moment as a fire escape gave way and a woman and girl plunged to the ground. The photograph was reprinted around the world and led to changes in fire safety codes.

Sitting at the city desk that April morning, Forman asked what was going on and his editor dispatched him to City Hall Plaza where an anti-busing protest was under way. As Forman arrived at the scene, he saw the group coming towards him. He also saw a black man walking across the plaza and sensed there might be trouble. Forman was too close to get a picture with the lenses on his two cameras, so he quickly changed to a 20mm lens. He started shooting, but heard the motor drive failing and he began taking single frames manually. The entire incident lasted ten or fifteen seconds; Forman took some twenty-odd shots, though a few of the negatives ran together. As he returned to the office, he had no idea what he had.

It did not take long to discover that the image of a protester wielding the American flag as a weapon to attack the man identified as Theodore Landsmark, an attorney, was a powerful one. Some editors feared that publishing it might inflame the already volatile racial situation in Boston. But it had happened, it was news, and, in the year of the bicentennial, it captured something profound about patriotism, race, and violence in America. The Boston Herald American ran it on the front page on April 6. The photograph appeared as well in the New York Times, Washington Post, and many other papers around the country.

A week or so after taking the photograph, Forman learned that he had won the Pulitzer Prize for his fire escape picture the year before. As he prepared to submit the flag photograph for Pulitzer consideration a colleague suggested the title "The Soiling of Old Glory." It is an ideal title for a stunning spot news photograph. In April 1977, Forman learned that he had again won the Pulitzer Prize for his work on that April day. Two years later, he was part of the staff that won the Prize for coverage of the blizzard of 1978. The most accomplished spot news photographer of his era, Forman is now an equally accomplished, award-winning television news photographer.

Louis P. Masur
Trinity College