Tony Vaccaro: War, Peace, Beauty - A Pop Up Retrospective
November 9, 2016 | Source: Monroe Gallery of Photography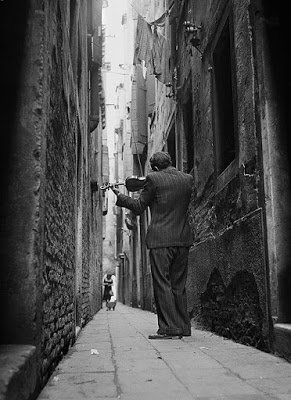 © Tony Vaccaro: The Violinist, Venice, Italy, 1947



TONY VACCARO: WAR PEACE BEAUTY
A pop-up photographic exhibit, in association with the Monroe Gallery of Photography
November 11 - 21, 2016
10:00 am to 6:00 pm, Mondays through Saturdays; 12 - 6 on Sundays
508 W 26th Street, Loft 5G, New York, NY 10001
Also on view at Monroe Gallery of Photography, 112 Don Gaspar, Santa Fe, NM
Essay by Peter Frank from the Catalog TONY VACCARO: WAR, PEACE, BEAUTY
When our lives and our communications were based on a simpler equation than they are now - when there were no social media posts suspended in a zone of truthiness and selfies took a week to come back from the camera store - our relation to the big news and big names of the day was a distant one. Pictures from wars were ominous and dramatic; pictures of celebrities were glamorous and iconic; fashion shots were staged in places we never knew could exist. These people and places and events impacted our lives indirectly - closely enough to get us to vote and go to the movies, but at enough of a remove as to float somewhere between the real and the imagined, the now, the soon, and the later. Time elapsed between the taking and the delivering of the photograph, which gave the photographer just enough room to make a good picture out of a good image - and a good story out of that. This is an entirely different approach to reportorial photography than we're used to these days; it allowed photographs of urgency and beauty to be artful as well as truthful. Major periodicals were built on this approach, and for decades brought both the world and the brilliance of the people who photographed it to a huge and hungry audience.
Tony Vaccaro is one of these brilliant photographers, one of the last. He may have lived long enough to see his values all but swallowed up by the vacuity of today's globalized and instantaneous sociobabble; but Vaccaro has also lived long enough to see his own work, along with his peers' from the golden age of photojournalism, enshrined as examples of the-news-as-art. Vaccaro was adept at conveying what a portrait subject meant to her or his civilization with the same immediacy invested in what a tank rolling through a town meant. Both images had a monumental right-thereness, the moment at once fleeting and eternal. And such images retain that vitality and profundity to this day.
Vaccaro's early life was spent between the United States, where he was born in Pennsylvania in 1922, and Italy, where his parents' families resided. In 1939, with the formation of the Axis, Tony and his sisters reclaimed their American passports and returned Stateside. Encouraged by a high school art teacher in suburban New York, Vaccaro discovered himself as a photographer at age 20 - just in time to enter the army and be sent over to England with the 83rd Infantry Division. The "Thunderbolt Division" landed on Omaha Beach two weeks after D-Day and fought its way into Germany, participating in the Battle of the Bulge. As a frontline scout, Vaccaro had both time and inclination to compile photographic documentation of combat, army life, and the newly liberated Europeans he encountered. Discharged from the army in September 1945, Vaccaro stayed in Germany until 1949, working as a photographer for (among other news services) Weekend, the Sunday supplement of Army newspaper Stars and Stripes. His documentation of postwar life throughout Europe was as reverberant as his combat-zone work had been, and - recording as it does both momentous political occasions and everyday life in a continent reduced to rubble - as much of a contribution to history.
Returning to the United States, Vaccaro embarked upon a career as a feature and fashion photographer. This was at a time when glossy weekly publications, with their emphasis on the visual, comprised a form of communication distinct from, complementary to, and every bit as successful as daily newspapers. Vaccaro spent more than two decades contributing to such magazines as Life, Look, Town and Country, Harper's Bazaar, Newsweek, Venture, Quick, and Flair, working out of Rome as well as New York and proving equally adept at portraiture, fashion, and action photography. Indeed, many of his published photographs in various genres have proven signal images of the postwar era, etched into the public's memory as deeply as those of Arnold Newman, Margaret Bourke-White, or Vaccaro's friend W. Eugene Smith. People know Gwen Verdon, Sophia Loren, Anna Magnani, and Ali MacGraw through his lens as much as they do through the lens of filmmakers; his photo series on Georgia O'Keeffe culminated in an unforgettable picture of the painter holding an abstract painting before the landscape that inspired it. Vaccaro's vast inventory includes many more such photographs, published and unpublished. In his day he was one of the more sensitive photographers of artists, whether capturing a pensive Jackson Pollock in his studio, a stolid Giorgio de Chirico in raking light, or Frank Lloyd Wright gesturing like a conductor while lecturing at Taliesin. Vaccaro's postwar portrayals of Europeans, especially Italians, capture in still photography the gritty but poignant neo-realist spirit of filmmakers like Vittorio de Sica and Luchino Visconti. His often experimental fashion shoots play on the animated patterns and extravagant contours coming out of European fashion houses in the 1950s and '60s. No matter who they are, Vaccaro seems to empathize with the thoughts and spirits of his subjects, endowing his pictures with a doubled allure for the viewer: you wish you'd been there even as you feel you somehow had been. This allure is only heightened by Vaccaro's exquisite compositional sense, a formal elegance that calls attention to the subject rather than to itself even as it pervades everything. As Vaccaro has said, "I was born with this idea in my head that every photograph has an order. I have always believed in this. Without geometry, I don't do photography. Each photograph must be in the geometry."
As the glossy weeklies (the fashion magazines excepted) waned in prominence in the 1970s, Vaccaro worked less and less with them until officially retiring in 1982. Of course, he has not put his camera down for an instant since, adding steadily to an oeuvre that now numbers some half-a-million pictures. About to celebrate his 94th birthday, Vaccaro is still very much among us. Despite many honors in Europe and America, however, despite numerous exhibitions and upwards of a dozen publications, Vaccaro's remains a name just beyond the public tongue. We know so many of his images, we respond so readily to his intimate connection with his subjects and his innate ability to compose a picture, but we can't quite place the signature. The experts know him, historians cite him, his peers laud him as their equal, and those who would keep such inventive photojournalism alive in our Instagram culture turn to him for inspiration. But only now, with a new television documentary and new exhibitions and publications, are the rest of us coming to recognize Tony Vaccaro, not just as one of many cameras in the crowd but as an artist, artisan, reporter and story-teller with his own style and spirit - and, again, author of some of the quintessential images of the postwar era.