Happy Birthday Art Shay!
March 30, 2016 | Source: Monroe Gallery of Photography

Art Shay, born March 31, 1922 in the Bronx, NY

We are very excited to wish photographer Art Shay a very Happy 94th Birthday!

For over 70 years, Art Shay has documented his life, combining his gifts of storytelling, humor and empathy.

Born in 1922, he grew up in the Bronx and then served as a navigator in the U.S. Army Air Forces in World War II, during which he flew 30 bomber missions and 22 aid missions.

From 1947-1949, while on staff as a writer for Life magazine, Shay wrote hundreds of bylines while helping out some of the greatest of Life's photographers. In 1949, Shay became a Chicago-based freelance photographer, landing thousands of assignments for Life, Time, Sports Illustrated and other national publications.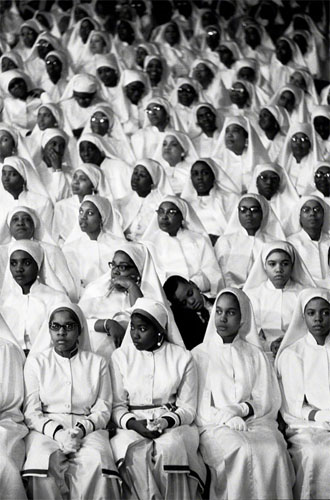 Elijah Muhammed's Grandchild sleeping with Black Muslim Sisters, 1969
Shay photographed nine US Presidents & major literary, business, entertainment, science and political figures of the 20th century.

A world class street photographer, Shay wondered countless miles throughout the 1950s exploring the city with author Nelson Algren, the winner of the first National Book Award.

Shay wrote weekly columns for various newspapers, several plays, children's books, sports books and several photo essay books including "My Florence" released in February 2015.

Shay's photography is included in the permanent collections of museums including the National Portrait Gallery, the Art Institute of Chicago and the Museum of Contemporary Photography , Chicago. His photographs are included in the current exhibition "Vintage Photojournalism" at the Monroe Gallery of Photography through April 24, 2016. Monroe Gallery will also feature several of Art Shay's photographs at the AIPAD Photography Show in New York, April 13 - 17.