SPRING NEWS FROM MONROE GALLERY OF PHOTOGRAPHY, SANTA FE, NM
March 21, 2016 | Source: Monroe Gallery of Photography
The ultimate digital magazine where everything about photography is published daily, L'Oeil de la Photographie, recently feature the gallery's current exhibition "Vintage Photojournalism".
The feature may be viewed here
.



"Vintage Photojournalism"

is a major exhibition of rare vintage prints from the 20th Century's master photojournalists. The exhibit features unique, one of a kind prints that were used to fill requests for reproduction in LIFE magazine and other major publications, many with important historic information inscribed and stamped on the verso (backside) of the photograph. The exhibit continues through April 24.

We are very pleased to announce that the gallery is now representing the Spider Martin civil rights collection. Alabama photojournalist, James "Spider" Martin, (b. 1939 - 2003) was employed as a staff photographer at The Birmingham News during one of the most eventful periods in American history. Martin covered key events during the 1960s civil rights movement, most notably Bloody Sunday and other historic incidents from the Selma to Montgomery march. His civil rights photographs are in included in the many collections, including the Birmingham Civil Rights museum, the National Museum of African American History and Culture, and the Dolph Briscoe Center for American History.



While a small number of Spider's civil rights era photographs have been published and exhibited, most of these dramatic and moving images have never been shown publicly because of their controversial nature for the time.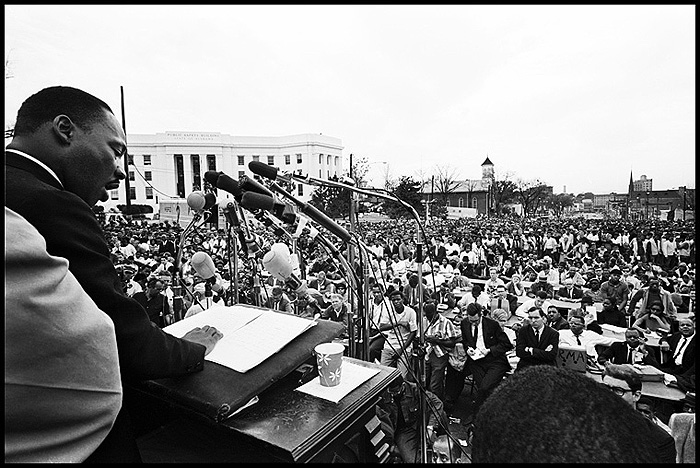 Monroe Gallery of Photography will be again exhibiting at the AIPAD Photography Show April 13 - 17 in New York at the Park Avenue Amory, 643 Park Avenue. The gallery will be in booth # 104. Celebrating its 36th year in 2016, The Photography Show features more than 80 of the world's leading photography art galleries. We will be exhibiting specially selected photographs from the gallery's renowned collection of 20th and 21st Century master photojournalists. Among the highlights selected for this year's exhibition are: vintage prints from Spider Martin alongside other important civil rights photographs; a rare selection of never-before-seen vintage prints of photographs taken by Bill Eppridge on the night
Robert F. Kennedy was assassinated
; a rare vintage print made from the original negative of the iconic image from World War II by George Silk
"An Australian soldier, Private George "Dick" Whittington, is aided by Papuan orderly Raphael Oimbari, near Buna on 25 December 1942
"; several large-scale color photographs from
Stephen Wilkes'
Bethlehem Steel, China, and Day To Night collections, and an exciting previously unseen large scale photograph of David Bowie taken in New Mexico in 1975 during the filming of "The Man Who Fell To Earth" that is featured in the forthcoming book "Bowie: Photographs by Steve Schapiro" which will be published April 26, 2016 by PowerHouse Books, and many other exciting new additions to the gallery's collection.
Steve Schapiro:
David Bowie, New Mexico, 1975 ( "The Man Who Fell To Earth')
We would like to invite you to visit the AIPAD Show as our guests, please contact the gallery for complimentary admission to the Show.
We will round out the Spring season with the exhibition "Alfred Eisenstaedt: Classics and seldom-seen photographs": April 29 - June 26.
Renowned as the father of modern photojournalism, Alfred Eisenstaedt's career as a preeminent photojournalist spanned eight decades. The exhibition of more than 50 photographs features numerous classic images, several little-known gems, and never-before-exhibited photographs.
We hope to see you in the coming months, and please do not hesitate to contact us for any information.
Our best,
Sid and Michelle Monroe