HAPPY BIRTHDAY JOE McNALLY!
August 10, 2010 | Source: Monroe Gallery of Photography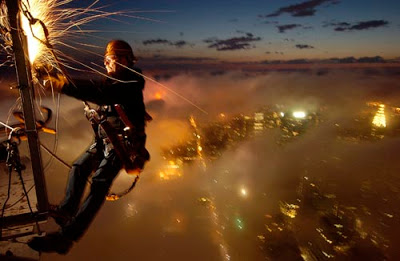 Joe McNally: Empire State Building, New York

Joe McNally just finished his "Traveling Light: Location Lighting with Small Flash" workshop at the Santa Fe Workshops, which offers "state-of-the-art photographic education that supports participants of all levels". The roster of instructors at the Workshops reads like a "who's who" of photography, including Sam Abell, Rick Allred, Keith Carter, Jay Maisel, Jock Sturges, Joyce Tenneson, and Stephen Wilkes.

Joe McNally is an internationally acclaimed American photographer and long-time photojournalist. From 1994 until 1998, he was LIFE magazine's staff photographer, the first one in 23 years. He has completed assignments in over 50 counties for prestigious publications, including Sports Illustrated, ESPN Magazine, Life, Time, Fortune, National Geographic, New York Magazine, The New York Times Sunday Magazine, GEO, Golf Digest, Discover, and Men's Journal.

His most well known series is the "Faces of Ground Zero" Giant Polaroid Collection, a collection of 246 giant Polaroid portraits shot in the Moby c Studio near Ground Zero in a three-week period shortly after 9/11. A large group of these historic, compelling life-size (9x4) photos were exhibited in seven cities in 2002, seen by almost a million people. The sale of 55,000 copies of the exhibit book, printed by LIFE, raised over $2 million for the 9/11 relief effort. This collection is considered by many museum and art professionals to be the most significant artistic endeavor to evolve to date from the 9/11 tragedy.


McNally is known worldwide for his ability to produce technically and logistically complex assignments with expert use of color and light. He conducts numerous workshops around the world as part of his teaching activities, and is the recipient of numerous awards, including the prestigious Alfred Eisenstadt Award for outstanding magazine photography, as well as Pictures of the Year International, and World Press Photo Foundation Award (awarded first place in Portraits in 1997). Recently, Joe has completed major stories for National geographic, including "The Future of Flying" and "The Electrical Grid".

It is always a special treat for us to spend time with Joe. During his time with LIFE magazine, he became very close with the giants of "The Golden Age" of photojournalism, such as Alfred Eisenstaedt, Carl Mydans, and John Loengard - some of our heroes. He is certainly one of the hardest-working photographers in the business (follow his blog or Twitter, at any given moment he might be in New York, Santa Fe, Asia, The Pacific Northwest, at the Albuquerque airport at 4 AM, or just about anywhere.) Last we knew, Joe was on his way to dangle from a helicopter while hoovering over giant electric transmission towers.

Joe is the author of the best-selling boks, "Flying West to Go East: New York City Opera on Tour in Japan", "The Moment It Clicks"; and "The Hotshoe Diaries". In October, Time books will pubish Joe's newest book, "Life Guide to Digital Photography: Everything You Need to Shoot Like the Pros". Joe will be in Santa Fe in early December for a special book signing and exhibit, watch this blog for details!

Meantime, Happy Birthday to Joe!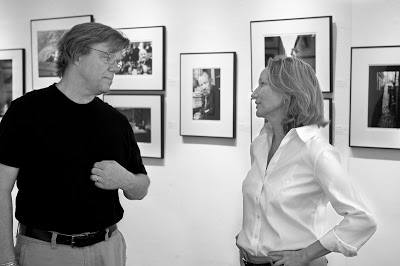 Joe McNally and Michelle Monroe discuss Bill Eppridge's exhibition
Photo by Carol Mackay