LIBRARY OF CONGRESS AQUIRES BOB GOMEL'S ICONIC PHOTOGRAPH OF MALCOLM X AND CASSIUS CLAY
August 11, 2010 | Source: Monroe Gallery of Photography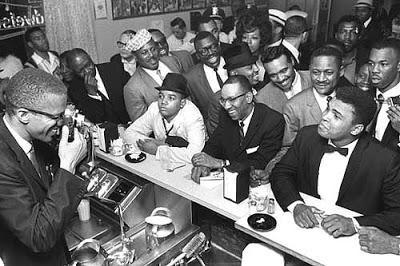 Monroe Gallery of Photography is very pleased to announce that the Library of Congress Prints and Photographs Division has acquired Bob Gomel's classic photograph of "Black Muslim Leader Malcolm X Photographing Cassius Clay Surrounded by Fans After He Beat Sonny Liston for the Heavy Weight Championship, Miami, February, 1964".

Bob Gomel worked extensively during the Kennedy administration as a photojournalist for LIFE magazine. He was frequently assigned to photograph political events, although he perhaps most remembered for his photograph of then 8 - year old John F. Kennedy Jr. standing solemnly at the funeral of his uncle, Robert Kennedy, in front of St. Patrick's Cathedral in New York. This photograph appeared in a two-page spread in the June 1968 "Special Kennedy Issue" of LIFE magazine.


Recently, speaking about the circumstances of making the now-classic photograph of Malcolm X and Cassius Clay, Bob recalled: It was February 26, 1964 in a Miami restaurant after Clay won the heavyweight championship from Sonny Liston. Howard Bingham, Ali's personal photographer is seen at the far right above Ali. Clay's brother Rahaman is seated to Cassius's left (only a fist is visible in the famous frame.) The name and exact location of the restaurant are paled into insignificance." The following day, bolstered by his mentor Malcom X, Clay stepped in front of a room of journalists to declare his conversion to the Nation of Islam. After fielding hostile questions, he voiced the words that would become his lifelong anthem and would forever change the world of sports: "I don't have to be what you want me to be."


Bob continues: "Mr. Fields was my grade school science teacher. His classroom was decorated with beautiful sepia-toned examples of his photography. The image closest to me was a back-lit nightview of a manhole cover on a cobblestone street. It was irresistible. I joined his photography club. I was hooked. WWII ended and I delivered groceries to pay for the first post war camera: a Ciroflex. In no time I took over a closet/cum darkroom in our apartment and began a great adventure which was to last the rest of my life. The French have a expression "joie de vivre". For me that includes the thrill of making a compelling photograph. That has not diminished over time. I suspect it never will."

For more, read an interview with Bob Gomel here: "Photographer's Life in Pictures, and Vice Versa".